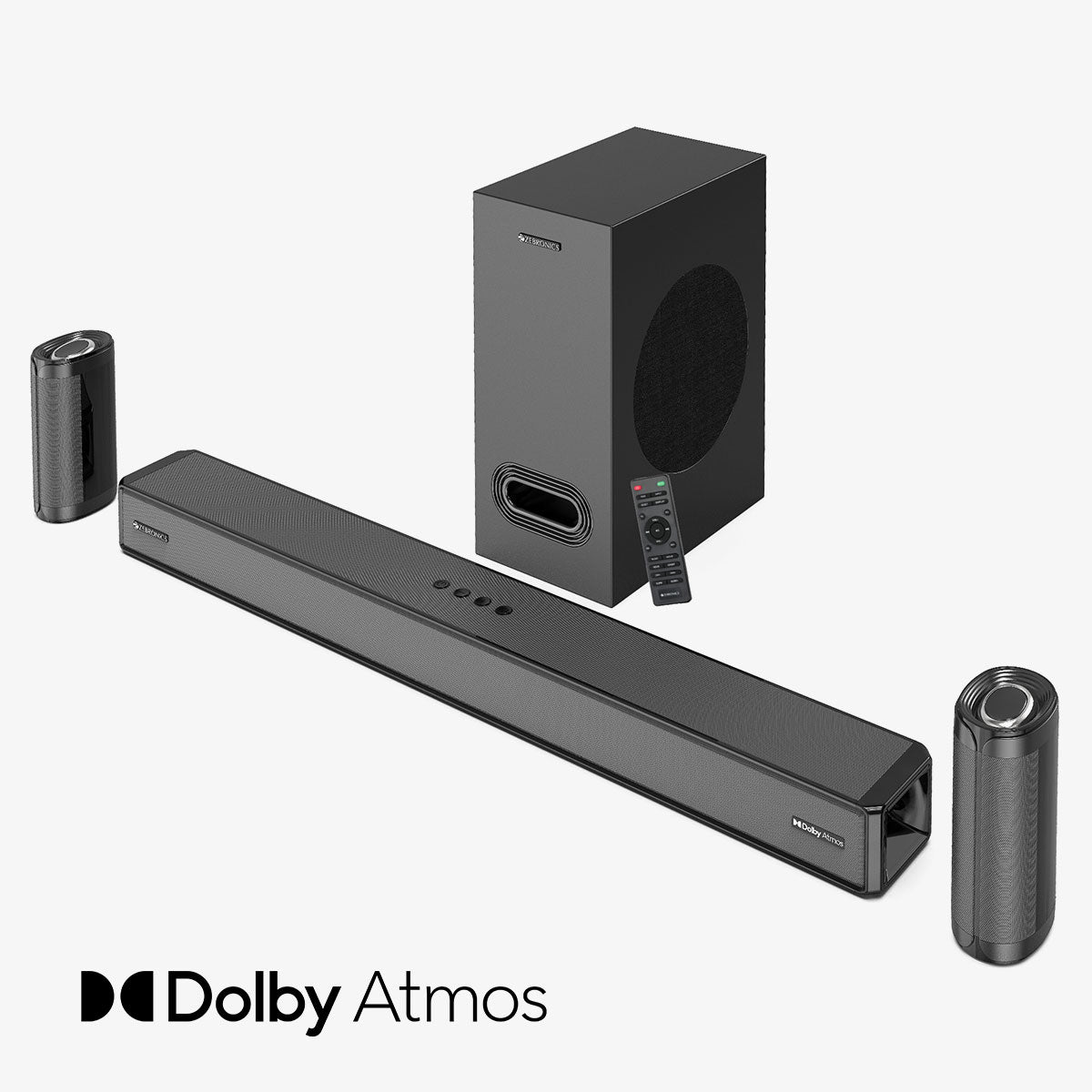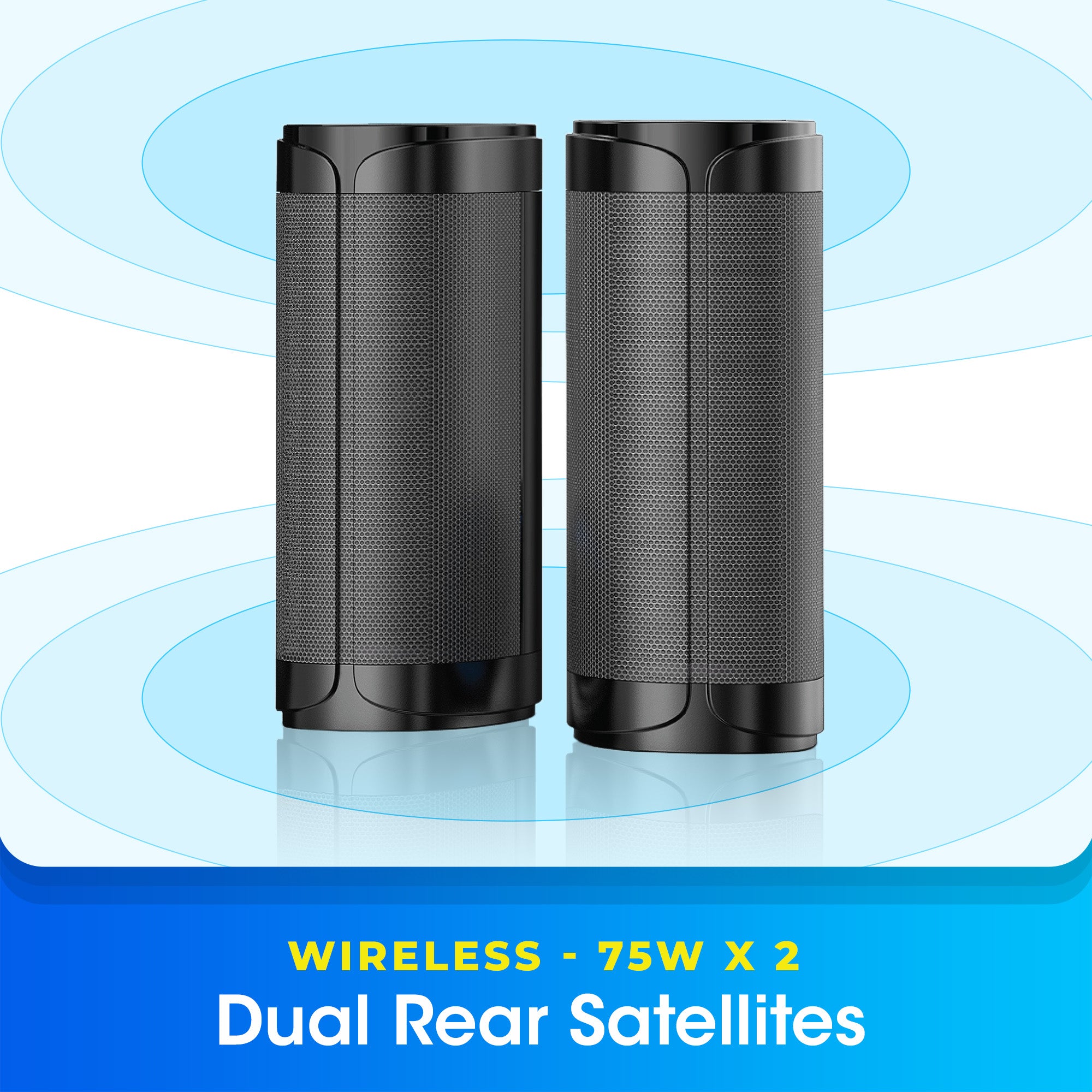 Zeb-Juke bar 9750 Pro Dolby Atmos
525W | Dolby Atmos | Wireless Satellites | 5.1.2 Channel
Check Delivery Availability
Features
| | |
| --- | --- |
| | Wireless BT/USB/AUX/Optical IN |
| | HDMI (e-ARC) |
| | 16.51cm Subwoofer |
| | Remote control |
| | Wall Mountable |
| | LED Display |
| | Dolby ATMOS / Dolby Audio |
| | Volume/Media Control |
| | 5.1.2 including the top firing drivers |
| | Dual Wireless Rear Satellites |

Specifications
| | | |
| --- | --- | --- |
| | Output Power | |
|   | Subwoofer | 150W |
| | Soundbar | 225W |
| | Satellite | 75W x 2 |
| | Total | 525W |
| | Driver Size | |
| |  Subwoofer | 16.51cm x 1 |
| | Soundbar | {6.35 cm x 3} + {5.08cm x 2} |
| | Satellite | {5.2cm x 7.5cm} x 2 |
| | Impedance | |
| | Subwoofer | 4Ω |
| | Soundbar | 8Ω x 5 |
| | Satellite | 8Ω x 2 |
| | Frequency response | 45Hz-20kHz |
| | S/N Ratio | ≥72dB |
| | Separation | ≥42dB |
| | File format support (USB) | MP3 |
| | Line input | 3.5mm, Optical IN, HDMI (e-ARC), |
| | Max supported memory size (USB) | 32GB |
| | BT name | ZEB-JUKE BAR 9750 PRO DOLBY ATMOS |
| | BT version | v5.0 |
| | Product Dimension (W x D x H) | |
| | Subwoofer | 190 x 306 x 367 mm |
| | Sound bar | 960 x 109 x 80 mm |
| | Satellite | 73 x 100 x 190 mm |
| | Net.Weight |   |
| | Subwoofer | 4.3 kg |
| | Sound bar | 3.35 kg |
| | Satellite | 500g x 2 |
| | Total | 8.65 kg |
| | Country of Origin | China |
| | Package Contents | |
| | Sound Bar | 1 U |
| | Subwoofer | 1 U |
| | Satellite | 2 U |
| | Power cord | 1 U |
| | Remote Control | 1 U |
| | Input cable | 1 U |
| | HDMI cable | 1 U |
| | Wall mount bracket with fasteners | 1 U |
| | QR Code Guide | 1 U |
| | Power Adapter(surround) | 1 U |
Excellent product and worth for money
I bought this product one month ago. I enjoy the music quality
Amazing sound Effect
` Purchased it for Gifting purpose, amazing Bass quality.Go for it without thinking much. This is best dolby home theater and budget friendly at the same time.
Awesome Juke Bar
Quality of sound look like cinema theatre.
Good sound
Sound quality is very good as expect. and also Having no issue with Bluetooth connectivity, always connect within sec. after buying this product now my home feel like dolby cinema theatre.
Quality is excellent
It is worth buying the product and i strongly agree that its quality is best than compared to other brands.